2013 News
Actress Eleanor Parker dies at 91
We are saddened to learn of the passing yesterday, December 9, of actress Eleanor Parker. She was 91 years old. Mrs. Parker had the honor of christening the California Zephyr with a bottle of California champagne broken across a grab iron on the nose of Western Pacific locomotive 802. The christening took place at an inauguration ceremony held in San Francisco on the Embarcadero on March 19, 1949. The California Zephyr began regular service the next day, March 20.
You can read more about her career in the Hollywood Reporter.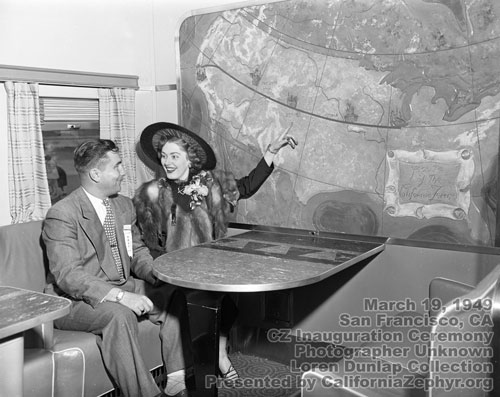 ###
On This Date in 1950...

The California Zephyr began using a reservation system for dinner seating.
###
CZ 64th Anniversary!
Today marks the 64th anniversary of the first regularly scheduled runs of the California Zephyr.
###
Silver Pony is back on wheels!
The Illinois Railway Museum is reporting that after a three year effort, Silver Pony is off theflatcar, and once again on its own wheels! The IRM has been working diligently to make this happen since acquiring the car three years ago, and it's what we've been hoping for since the derailment over 8 years ago. Congratulations to the IRM on accomplishing this milestone! They still need donations to further the work toward the goal of a full restoration. You can learn more, follow their progress, and view photos at the IRM's Silver Pony blog.
###
For our Facebook and Twitter followers
We apologize for the repeated New Year's wishes! Due to a code error, the item kept re-posting every half hour. This issue should be resolved now. Again, we apologize for any confusion or inconvenience.
###
January, 2013

Happy New Year!
Warm wishes for a great 2013!
###
**SPECIAL REQUEST**

*California Zephyr Zephyrette History Project*
Request for Information from former Zephyrette, Cathy Moran
Former Zephyrette (train hostess on the California Zephyr) - Cathy Moran:
"My experiences on the Zephyr were right before it was placed out of service. I have a dear friend Rodna Walls Taylor who was a Zephyrette when it all started back in the 50's. We are working collaboratively to create a history of the Zephyrettes; since we are living history! We are in need of help from all California Zephyr riders, Zephyrettes, photographers, and historians to help us out in this project. We are looking for:
Pictures of Zephyrettes;


Current home/email addresses of any former Zephyrettes


Zephyrette stories you might know of;


Any Zephyrette or Zephyr memorabilia that you would be willing to share in a document with credit.
You may contact me through a special contact page at the CaliforniaZephyr.org website."
###