2012 News
Silver Larch now owned by Mid America Railcar Leasing
While this isn't breaking news, we've just learned that the Silver Larch is now a part of Mid America Railcar Leasing's fleet of railcars, which also includes 6-5 Sleeper Silver Quail.
###
September 14, 2012

New Photos of the California Zephyr at Sacramento and Stockton, California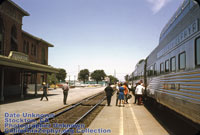 Two new photos added: The CZ making stops at the Stockton, California depot, and the Sacramento, California depot. View them on the Train Photos Page.
###
July 31, 2012

New Photos of Silver Maple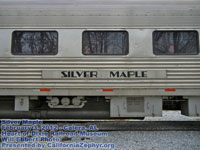 We've added a few new photos of the Silver Maple. These photos were generously shared with us by Will Ebbert. View them on the Section Sleeper/Chair Car page.
###
For our Facebook and Twitter followers
This morning, our feed distributor re-distributed every update we've ever posted. We have no idea why this happened, and apologize for any confusion this may have caused.
###
April 27, 2012

**SITE UPDATE**
Time Table Addition

This CZ Time Table was issued on this date, 60 years ago. View it on the Time Tables page.
###
April 12, 2012

**SITE UPDATE**
Brochure Addition

This circa-1962 brochure has been represented on the site, but you can now browse the whole thing! On the Brochures page.
###
CZ 63rd Anniversary!
Today marks the 63rd anniversary of the first regularly scheduled runs of the California Zephyr.
###
Leonard Bernstein Has Died
I'm sad to report the passing of Leonard Bernstein on January 4, 2012. Mr. Bernstein was at one time a CZ Dining Car Steward. He retired from the D&RGW as Director of Passenger and Dining Car Operations, and was integral in maintaining the high standards of the Rio Grande Zephyr. He was with the D&RGW for over 50 years. Mr. Bernstein was 95 years old.
###
January, 2012

Happy New Year!
###
**SPECIAL REQUEST**

*California Zephyr Zephyrette History Project*
Request for Information from former Zephyrette, Cathy Moran
Former Zephyrette (train hostess on the California Zephyr) - Cathy Moran:
"My experiences on the Zephyr were right before it was placed out of service. I have a dear friend Rodna Walls Taylor who was a Zephyrette when it all started back in the 50's. We are working collaboratively to create a history of the Zephyrettes; since we are living history! We are in need of help from all California Zephyr riders, Zephyrettes, photographers, and historians to help us out in this project. We are looking for:
Pictures of Zephyrettes;


Current home/email addresses of any former Zephyrettes


Zephyrette stories you might know of;


Any Zephyrette or Zephyr memorabilia that you would be willing to share in a document with credit.
You may contact me through a special contact page at the CaliforniaZephyr.org website."
###